Markets & feasts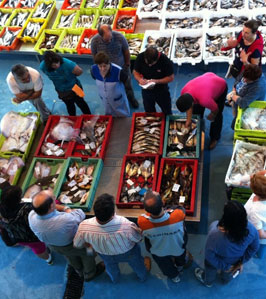 MARKET
Tuesday/Friday.
Fisterra

MARDYGRASS
ChangeableDate.
Groups Contest.
Fisterra

HOLY WEEK
Christ Feasts.
Fisterra

SAINT JOHN
June 24th. Verbenas.
Sardiñeiro.

BEACH PARTY
Last July weekend.
Fisterra.

LONGUEIRÓN
1st. August Sunday. Gastronimic Feast.
Fisterra.

CARME FEAST
2nd. August week. Verbenas.
Sardiñeiro.

END OF THE WAY
Folk Feast.
3rd. August weekend .
Anchovy.

SEPTEMBER 8th., 9th., 10th.
Sailor and patronage feasts to honour the Garden Virgin. Maritime procession and Verbenas.
Fisterra.
Holy Week – The Christ
Holy Christ feasts are held during the Holy Week.

The various stagings of the Christ Passion are made Holy Thusday and Holy Friday and they are followed by thousands of pilgrims in the environs of the Church of Holy Mary of the Sands.

The main day is the Resurrection Sunday, when, after the performance, it is danced the poles dance, an interesting artistic display which has its origin on the XVII century.
Holy Week Acts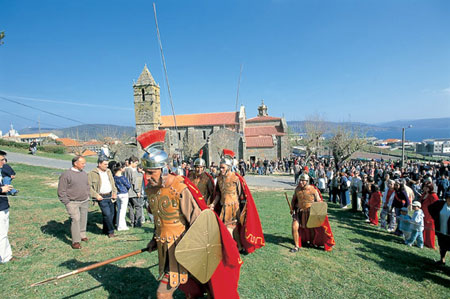 FRIDAY OF THE GRIEVES
Mass, Ninth Masses and Grieves Brotherhood Procession around town.

PALMS SUNDAY
Blessing of the Palms, procession and Holy Mass.

HOLY THURSDAY
Living performance of the last súper and feet cleaning. This act full of symbolism is recreate since years gone by with local sailors and set up one of the more deep ceremonies at the Holy Week
HOLY FRIDAY
Act solemn the Holy Encounter at the square. Images of Jesus the Penitent , the Virgin of the Grieves, Saint John, the Verónica, Simon the Cireneo, are mixed with living characters recreating a typical Via Crucis which finish at the Parochial Church with the Calvary performance. At the evening in the Parochial Church it is celebrated the day liturgy followed by the Unnail act, which give place to the
RESURRECTION SUNDAY
Staging with living characters what maybe was an ancient sacramental mistery play which recounted in verse the arriving of the disconsolate women to the sepulchre and their encounter with the angel who announce them the Lord Resurrection shaped as a proclamation to the wide world with the tradicional Aleluia.